October 11, 2022
6:00 am
–
October 12, 2022
3:00 pm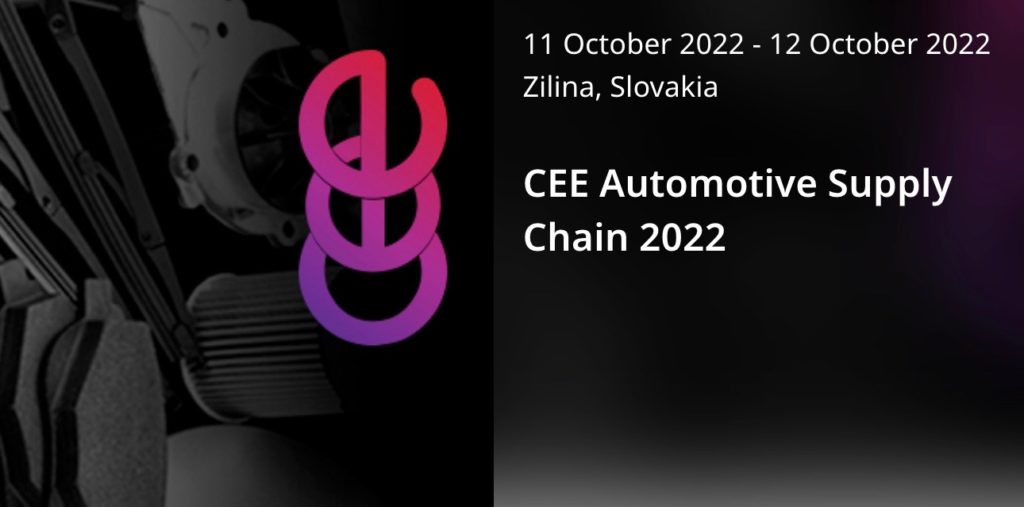 Already on October 11 and 12, the fifth annual CEE Automotive Supply Chain will take place in Žilina, organized by the Association of the Automotive Industry of the Slovak Republic with other partners.
The following will perform at the event:
- Sigrid de Vries, Director General, European Automobile Manufacturers Association (ACEA)
– Ivan Štefanec, Member of the European Parliament
– Alexander Matušek, president, Association of the Automotive Industry of the Slovak Republic
- Volvo Cars (speaker TBA)
– Robert Kiml, Vice President, Association of the Automobile Industry of the Czech Republic and General Director for Administration, Toyota Motor Manufacturig Czech
– Vazil Hudák, member of the board of directors, Inobat Auto, ex-Minister of Economy of the Slovak Republic
– Zdeněk Tůma, chairman of the supervisory board, ČSOB banka and ex-governor of the CNB
– Petr Knap, leading partner for the automotive sector in CEE, EY
– Stefan Hoffmann, Head of Drive System Development, Hyundai Motor Europe Technical Center
– Vladimír Toman, managing director, Miba Sinter Slovakia
– Pavel Juříček, chairman of the board, Brano Group
– Tomáš Vondrák, director, Continental Automotive Czech Republic
– Philip Smitka, partner, Squire Patton Boggs 
Program of the event:: HERE
Registrácia:HERE (early-bird ticket prices only until Friday, September 9).).
Take advantage of the opportunity to meet and establish cooperation with important representatives of the automotive sector:
– British Chamber of Commerce in Slovakia
– Franco-Slovak Chamber of Commerce
– Korea Trade and Investment Promotion Agency
– Slovak-German Chamber of Commerce and Industry
– Association of the Automobile Industry of the Czech Republic
– Association of the Automobile Industry of the Slovak Republic