October 5
@
2:30 pm
–
5:00 pm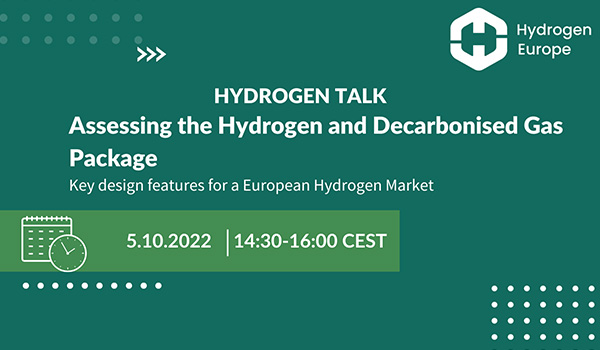 Hydrogen Europe invites you to the "Hydrogen Talk" webinar series on: " Key design elements for the European hydrogen market - an assessment of the hydrogen and decarbonized gas package " ". 
On 15 December 2021, the Commission adopted a series of legislative proposals to decarbonise the European gas market. Among them, the revision of the existing directive and the gas regulation stand out as the missing parts of a solid regulatory framework for hydrogen. Just a few months later, REPowerEU pushed for a hydrogen accelerator, calling for a faster review process and bringing new challenges and opportunities for the hydrogen industry. Speakers will address the following questions, among others: How can we quickly build an infrastructure capable of transporting 20 million tons of hydrogen? How to ensure the storage of large volumes of hydrogen? How can the hydrogen package respond to these challenges?
With just a few months to go before the decisive vote in Parliament and Council, speakers will have the opportunity to discuss the key building blocks of the European hydrogen market.